Best online pay stub generator tool
---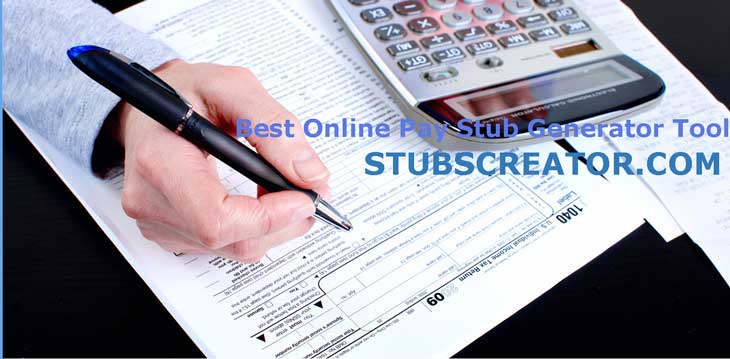 Most small businesses are fond of writing paychecks for their employees during every pay cycle. This process is often tasking and overwhelming. In fact, more savvy employees require some form of advanced paychecks or stubs.
More so, business efficacy demands that adequate documentation of employees evidencing tax and other statutory deductions. Manually incorporating these essential factors could be a daunting one for most businesses. How possibly can a business owner combine both essential business commitments and paychecks generation? This is where pay stub templates and tools come into play.
What is a pay stub generator tool?
Stub generator allows you to easily calculate and generate pay stubs. This automated system takes the pressure off business owners and enables them to efficiently prepare and process pay stubs. It is very easy and simple to use. With just a few clicks, you can generate thousands of pay stubs.
Components of pay stubs
Paystub does not have any rigid structure or content. However, there are some essential pieces of information it carries. These can be classified into two; in house details and statutory details.
These are the first class of details of every pay stub. It includes such details as employee name, employee number, hours worked, social security details, and overtime. Also, the rates for each hour worked should be included. This section also contains the gross earnings relating to the exact pay cycle.
The second section of the pay stub relates to both pre-tax and post-tax deductions. This includes federal, state, and local authority taxes, insurance premium payments, medical deductions, social security taxes, and educational saving schemes. This section determines the employee's net pay after all deductions have been made.
Finding the right pay stub templates
Most companies adopt a specific pay stub template for their employees. This enables them to easily and effortlessly prepare paychecks. Finding the right template can be a tasking one for every business owner. One of the methods used by business owners is through library research. However, library research may not yield a satisfactory result. Thus, the second alternative!
The advent of the internet has so much made things easier. Internet research will reveal thousands of pay stub templates for every business type. These templates contain all relevant fields of which you only need to fill your employee details. Yet, these templates are not 100% efficient as business owners still need to manually input their employee details. Thus, the third alternative!
Nowadays, the best way to prepare and generate pay stubs is though a pay stub generator tool. This tool is fully-digitalized software that allows business owners to easily and effortlessly prepare pay stubs.
There are several tools out there but only a few of them are efficient and effective. Stubs Creator is one of the best online pay stub tools for every business. It is dynamic, flexible, and versatile. Choose from hundreds of templates and watch the tool create your employees' paychecks within few minutes.